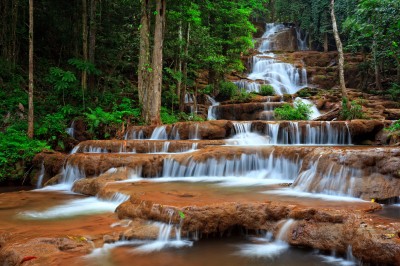 The Balanced Scorecard Institute calls it "cascading goals."
I love this term, because you can visualize how the organization has a strategy and a big goal for the year, and important bits cascade down to departments (sales, customer service, production, even accounting). Then the department manager lets each employee know how they contribute to this department goal.
A great example I heard last year at a seminar was how a chain restaurant made corporate goals tangible and clearly understandable to every employee.
The general manager had a goal of 5% increase in revenue this year (to achieve the corporate goal of 5% increased revenue at same locations.) She then computed what this meant for the hostess, servers, kitchen staff, and even the "busboys."
The Hostess knew that the team needed to reduce wait time (goal- less than 10 minutes at peak hours) so they did not lose diners due to a long line. She worked with the busboys to clear dishes so that diners left faster after eating (goal- 2 minutes) and clean up tables for a new party (within 2 minutes).
Servers knew that they needed to increase their average sale per diner 5%- which equaled an extra appetizer or dessert for every 3 tables. Servers also concentrated on expediting orders, response to requests (ketchup, please) and rushing food to tables to decrease overall customer time at the table.
I think you get the picture… when employees have simple Key Performance Indicators, they understand their purpose, the results to achieve, and the priority actions that would achieve those results.
Then the restaurant manager would share daily and weekly results (average sale per diner, average time per table, table wait time at peak, etc) so that employees could see if they were on track to meet monthly goals. A simple visual dashboard of these KPI was posted in the employee area, and reviewed with weekly and monthly update and celebration meetings.
Different shifts and days even had a friendly competition going, and servers would stop to ask their KPI results after a shift!
After a few months, revenue increased 10% over the prior year, and better yet, customer satisfaction scores also increased significantly.
After all, those KPI weren't just good for the restaurant, but also what customers want: no wait for a table, faster and more responsive service, being offered the specials of the day.
Here is a great free guide from Gazelles & Rhythm Systems:
5 Tips All Executive Teams Must Know About KPIs
Learn more about how Expectations, goals and KPI dashboards work as part of your People Plan:
Clarifying Expectations section of our free resources
---
Image courtesy of Sura Nualpradid at FreeDigitalPhotos.com