Are you interested in everyone on your team taking on more responsibility?
I mean real responsibility — when they "own" the work, solve issues, make suggestions and even improve the process, and [the ultimate level] keep you in the loop with status updates or "exception" reports.
You might even have a few people who do this now… but you would like EVERYONE on staff to do this. [Keep reading for the First of the 6 steps…]
This magical state is called the "Accountability Culture" — and blends the benefits of a Results Culture and a Caring Culture, and the top ranked most-effective leadership style that blends concern for People with a focus on Results.
Accountability is not a new concept, but it has become a high priority for the business owner and manager who wants to spend more time on business planning and management and less time on getting the daily work done.
If your team "does what they are supposed to do" then managers are freed up to work on the business- revenue generation, process improvement, cost control and great team and customer experiences. If your pants are on fire you can't plan and improve your business.
Let me be clear—- Positive Accountability is essential to grow your business.
Last week I spoke to 91 planners and managers in operations, who work for companies with 50-500 employees. Guess what? These organizations are also challenged with building accountability on their teams.
Here is your opportunity to take your smaller more agile company and out-perform you competitors, with
6 Steps to Coach For Accountability & High Performance.
Step 1 is to clarify the Roles, Responsibilities and Results of your key people: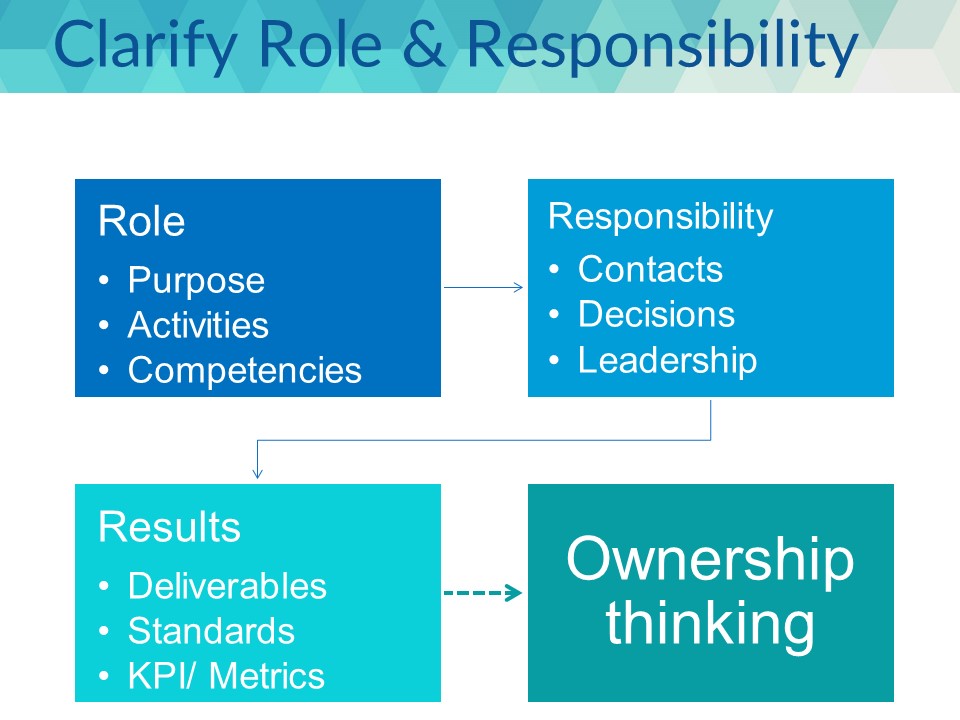 Employees want to have four main questions clarified about their role (although they rarely ask them):
If you cannot answer these questions about your role and those of your key people,
you will not be able to effectively hold them accountable for results.
1. What is my role?
2. What does "good" look like?
3. What is my responsibility?
4. What results should I produce?
To Learn More:
For a detailed outline of how to accomplish Step 1 [Clarify Roles and Responsibilities], see page 7.
See all 6 Steps to Coach for Accountability [Slideshow]